AMY BURKERT HONORED WITH CARNEGIE MELLON'S DOHERTY AWARD
by Emily Payne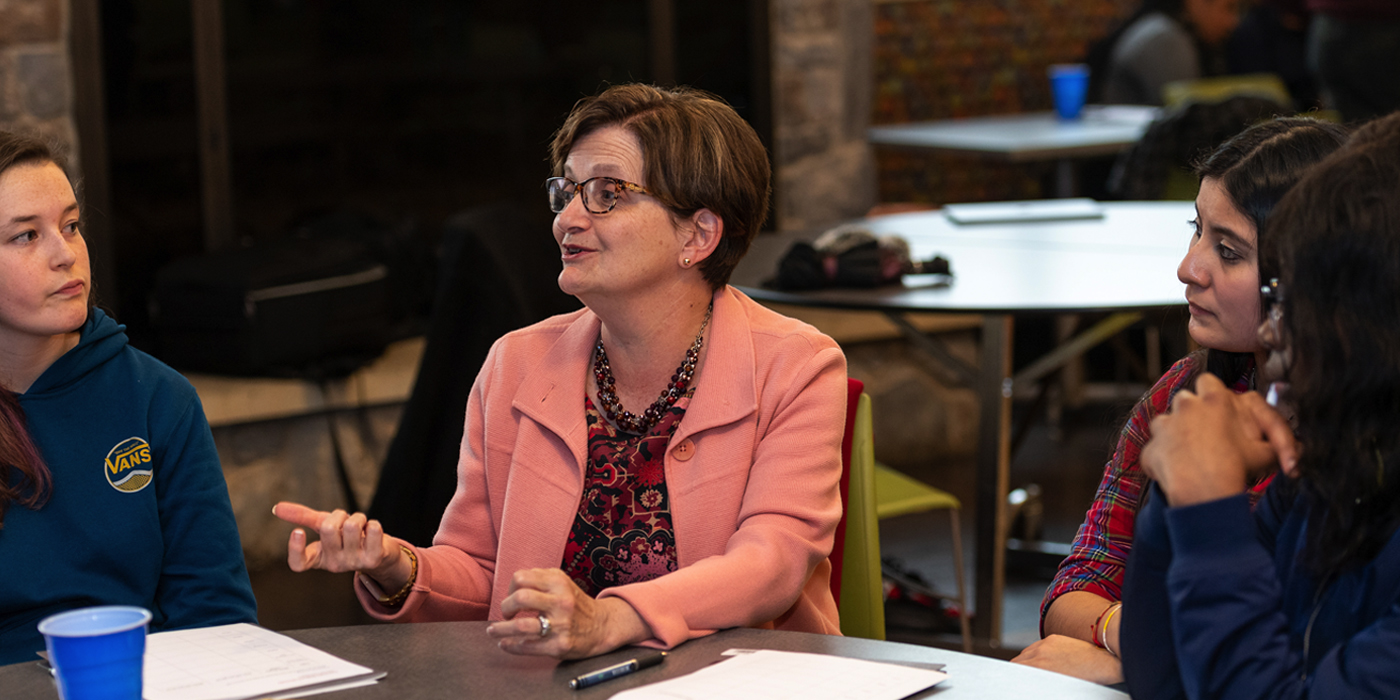 Vice Provost for Education Amy Burkert was honored with the university's Robert E. Doherty Award for Sustained Contributions to Excellence in Education. 
For over 30 years, Burkert has challenged herself and others to creatively deliver an exceptional educational experience for every student at Carnegie Mellon University.
Burkert joined the staff of the Mellon College of Science in 1983 and later earned her Ph.D. from the college in 1990. She 's served in many roles, including as a teaching professor and associate head in the Department of Biological Sciences, assistant dean of Educational Initiatives and director of the Health Professions Program (HPP). As director, she re-envisioned a new model for the HPP, an advising and resource program that empowered students from across the university to explore their interests in the health professions and realize their professional aspirations.
Her experience advising students from a range of majors gave her a strategic vantage point to not only understand CMU's unique curricula but also to identify needs and new opportunities. Partnering with colleagues, she helped to establish the interdisciplinary Bachelor of Science and Arts degree, the Science and Humanities Scholars program, the unified major in biological sciences and psychology, the healthcare policy and management minor, and the biomedical engineering minor for non-engineering students.
In 2010, Burkert transitioned to her current role as vice provost for education. She brought to that position her passion for curricular innovation, talent in interdisciplinary collaboration and an unwavering dedication to student success. 
Andreea Ritivoi, professor and head of the Department of English, said Burkert has had a transformative impact on the culture of CMU by offering a deep and broad knowledge of the university's educational needs and a vision for what a comprehensive education should offer.
"Her approach is always open-minded and creative; collegial and collaborative; data-driven and practical," Ritivoi said in her nominating letter. "She has a gift for always making sure the various stakeholders on campus have weighed in and signed on whatever it is we are developing. She is calm and diplomatic in charged situations. And finally, she is diligent and generous with her time and energy in a way that leaves me in awe of her capacity to respond, so kindly and efficiently, to a vast array of tasks and challenges." 
Enhancing the educational experience of every Carnegie Mellon student is at the core of everything Burkert does. Director of Undergraduate Studies Amanda Willard, who was one of Burkert's alumni supporters for the award, said it quickly became clear to her that Burkert is incredibly invested and devoted to the CMU community.
"She is continually lending a listening ear to the student body and spear-heading innovative initiatives with the ultimate goal of better preparing and supporting all students," Willard said. "I personally would not be where I am today without her support and mentorship and I look forward to continuing to learn from her and aspire to have the same kind of positive impact on my students." 
President Emeritus Jared Cohon believes Burkert's steadfast and tireless work on behalf of students at CMU makes her most deserving of this award. 
"She has put interdisciplinary collaboration at the center of her education initiatives, and she has been a marvelous collaborator. She is a fervent champion for diversity and inclusion. Her entire career — as a teacher and administrator — has been about educational innovation for excellence." 
Burkert's faculty nominators Maggie Braun, Eric Grotzinger and John Lehoczky also praised her many contributions to fostering educational excellence in each role she's held at CMU.
"Amy is a dedicated, collaborative and impactful leader," they wrote. "And she should be recognized for her exceptional impacts on the CMU community."