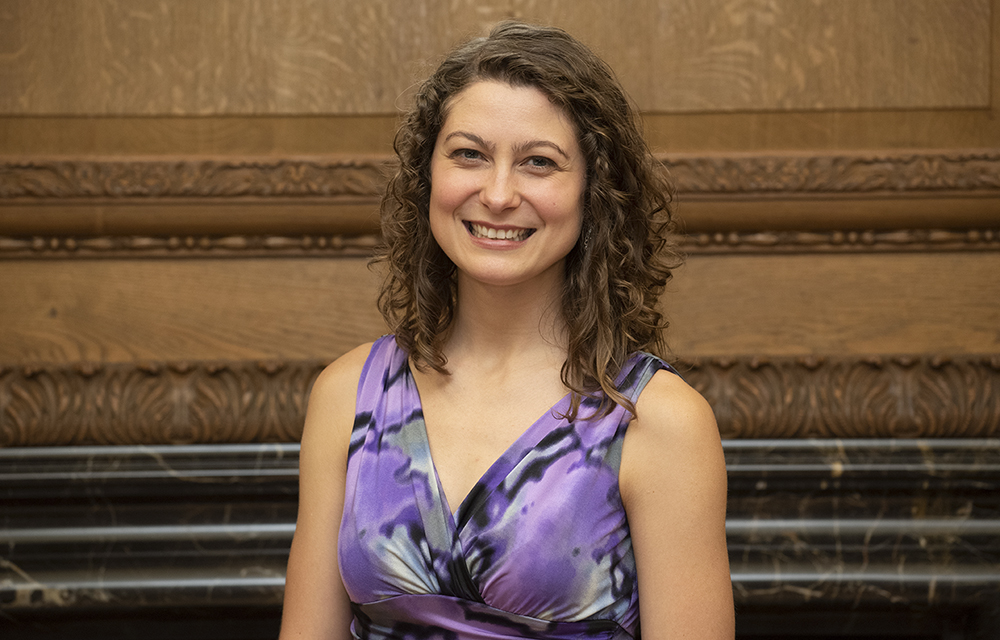 Volunteer for Life
Outstanding Recent Alumni Award Recipient
Being a volunteer is a way of life for Ashley Kilp Godisart (CMU 2010), and she maintains her passion for service to others regardless of her life's demands.
Her history with Carnegie Mellon started early: she participated in the Carnegie Mellon Institute for Talented Elementary and Secondary Students (C-MITES) program as a child. She enjoyed the experience so much that, when she began her college search process, CMU was the only regional school among the others across the nation that she placed on her list.
"With this great school in our backyard, it made sense to apply to CMU," Godisart said. "Then I visited, and I did a Sleeping Bag Weekend, and I just fell in love. Everything felt right."
She excelled as a chemistry major and Science and Humanities Scholar, and she was a resident assistant at Mudge House and a volunteer at Children's Hospital in Pittsburgh. As a leader of the Global Impact Corps for Unite for Sight, Godisart spent two weeks in India and almost three months in Ghana.
Godisart's leadership and public service resulted in her selection as a national finalist for the prestigious Harry Truman Scholarship. Her love of science and call to service led her to realize that her future was in medicine, not research as she had originally believed.
During summers at Perelman School of Medicine at the University of Pennsylvania, she volunteered at camps for children with complex medical needs.
"My parents have instilled in me that achievement is one thing, but helping other people and building up a community is something that matters even more. I think, for me, that's always been sort of an integral
part of whatever I do."
"Some of the things that I got involved in were less because it was the thing med students do, and more so because they were things that brought me joy," Godisart said. "During my first summer, when everybody else was doing research, I was a camp counselor at Dragonfly Forest. That ended up being one of the most formative experiences of my med school career."
Even today, she continues to volunteer at Carnegie Mellon with the same passion she showed as an undergraduate.
When Godisart rose to the position of chief resident in emergency medicine at UPMC in 2014, she re-engaged with Carnegie Mellon. She has served on the advisory board for CMU's chapter of Camp Kesem, is a member of the Carnegie Mellon Admission Council, speaks frequently to chemistry majors and students interested in health professions and meets with Science and Humanities Scholars during Spring Carnival each year. Ashley's commitment is so respected that she was asked last year to serve on The Task Force for the CMU Experience to reform campus culture to promote wellness and compassion.
Godisart describes two reasons why she is driven to serve her alma mater: "CMU gave me so much that I feel very compelled to pass that along. My professors, my advisors, my house fellows and everyone I encountered helped me achieve what I wanted to achieve and develop into the kind of person that I wanted to develop into. And the idea that I can be, in some small way, that sort of person for a student is all I could really hope for."
♦ Joyce Defrancesco