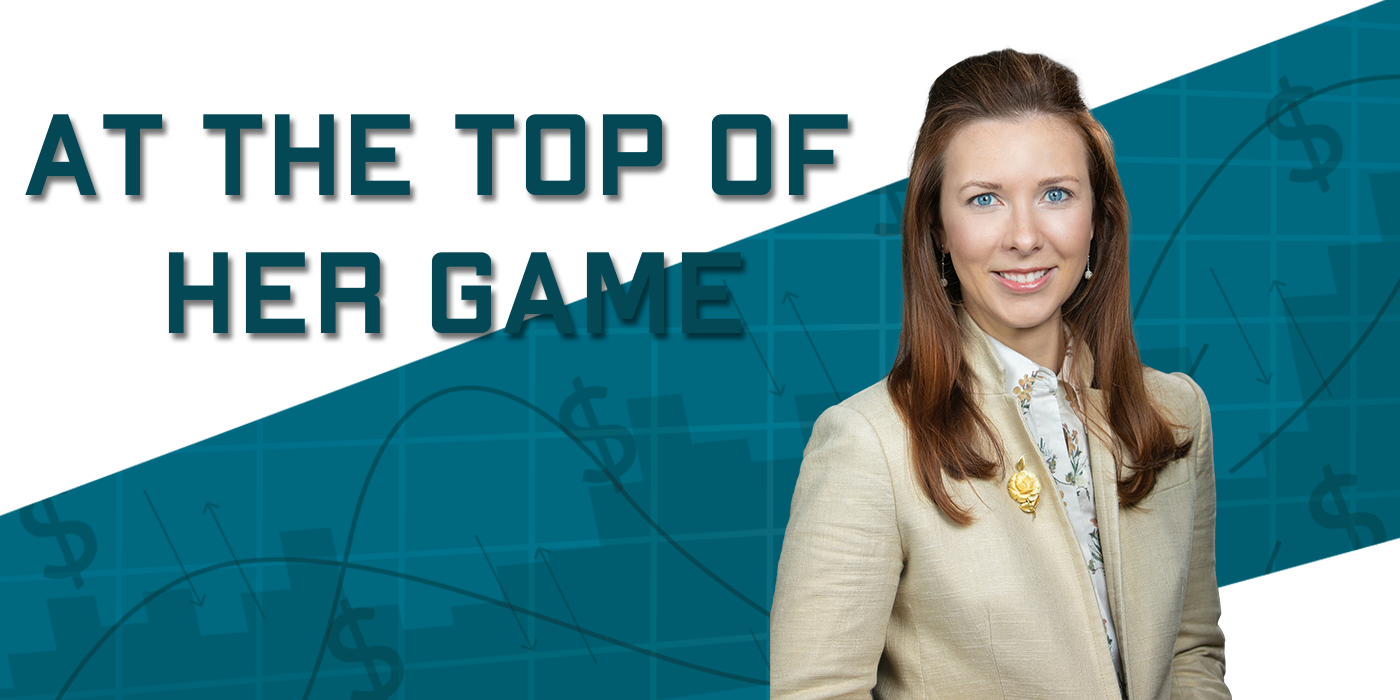 Elizabeth Andreev is making her mark in municipal finance
Elizabeth Andreev has sat in many seats in the finance industry — she's been a buyer, a seller, a market maker and an underwriter. She's brought her sharp quantitative skills to these roles at hedge funds, large commercial banks and multinational investment banks.
She credits this expanse of experience to beginning her career just as the most tumultuous financial crisis in modern history hit the United States and the world.
"It was overwhelming and hard to process all that was going on. Not only because I was so new but because it was kind of new to everybody. Things that were breaking down weren't supposed to be able to break down," Andreev recalls.
Andreev had just started her professional career at Susquehanna International Group, a hedge fund headquartered in the Philadelphia area.
When the mathematics major was graduating from Carnegie Mellon University, she never pictured a career in finance, but she did know that she wanted to find a career where she could use math to solve problems in everyday life.
She joined Susquehanna in 2006 as a trader in equity options but because of her quantitative skills, the company quickly moved her to the commercial mortgage-backed securities trading desk. Shortly thereafter, the subprime mortgage crisis completely obliterated that market.
Her position was effectively eliminated, but the group offered her a position as a trader and market-maker for municipal bonds and municipal bond exchange traded funds (ETF).
While at Susquehanna, Andreev developed a proprietary intraday pricing model for municipal bond ETFs and worked on a collaboration with investment management firm VanEck to structure and seed the first High Yield Municipal Bond ETF.
But Andreev soon realized that she wanted to try different things, an outlook she attributes to the lingering effects of the financial crisis. "I think for people of my generation, compared to those before who might have held a job for 20 years at the same firm, there's a little bit more mobility or interest in branching out and trying new things because we all know that situations can change very quickly. Developing breadth and new skill sets feels very important," Andreev said.
In 2010, she transitioned from being a buyer to a seller on the institutional sales and trading team at US Bank, transacting in bonds for a wide range of customers such as hedge funds, mutual funds and insurance companies. At US Bank, Andreev became the first municipal bond salesperson to receive the US Bank Summit Award for performance and leadership in 2014.
After nearly eight years, Andreev took another leap to become an underwriter at UBS, which was expanding its small municipal bonds group after deciding to reenter the realm of public finance.
Andreev finds municipal bond finance fascinating. Investment banks, like UBS, help public entities — governments, nonprofits, etc. — structure and sell municipal bonds to investors to help fund public projects.
"It's different than any other market because we are not just looking at and crunching numbers all day. We're working with people who are trying to get money to do things that often tangibly affect your everyday life," she said.
Andreev sees projects come across her desk from municipal issuers like a hospital trying to finance a new wing to a toll authority trying to build a new road.
"It's different than any other market because we are not just looking at and crunching numbers all day. We're working with people who are trying to get money to do things that often tangibly affect your everyday life."
Every day is something new, Andreev says. A facet that is both challenging — to know about all these different municipal issuers and their needs — and exciting. "One day, we will be working on financing a minor league ballpark, and the next day, it's something totally different, like financing an airport."
As an underwriter, Andreev works between the worlds of buyers and sellers for these municipal issuers. Her job is to structure and price the bond deal to help her issuer clients meet all their needs and objectives while also creating bonds that the sales force can market to investors. Andreev has impressed not only her clients and investors with her market insights and leadership but also the industry at large.
Last year, the Bond Buyer, one of the most respected and widely circulated daily newspapers for the municipal bond industry, named Andreev as one of its 2019 Rising Stars, an honor recognizing the best and brightest municipal finance professionals under age 40.
"I was honored to be nominated and selected. It was definitely a highlight of my career," said Andreev, who was also promoted to executive director at UBS earlier this year.
■ Emily Payne