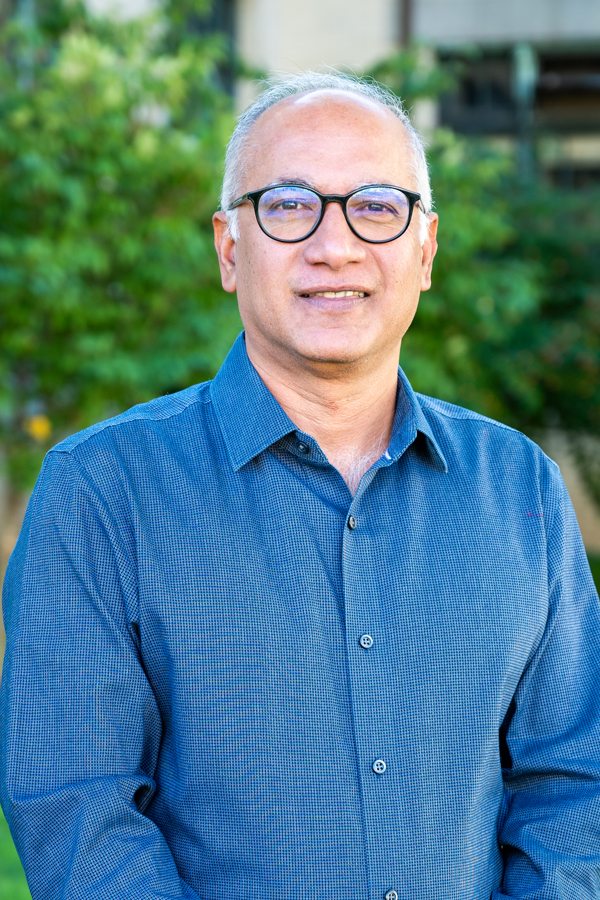 Prasad Tetali, Ph.D.
Alexander M. Knaster Professor
Department Head
Letter from The Department Head
2021 has been a year of eventful transitions and continued hope. After a prolonged period of significant uncertainty and campus closures due to the pandemic, CMU opened for in-person classes in August 2021. Thanks to the various measures set in place by the campus leadership, by way of weekly testing and subsequent vaccine mandates, the fall semester comes to a relatively smooth close as we enter the holiday season.
It is my pleasure to introduce the next edition of the Department of Mathematical Sciences newsletter, with its newly acquired title, Convergence. After 27 years of service at Georgia Tech, I have had the honor of assuming a new leadership role, effective July 1, 2021, as the head of the Department of Mathematical Sciences at CMU, and in turn humbly receiving the prestigious Alexander M. Knaster Professorship. I am inspired by the many opportunities that lie ahead for the department. My predecessor, Tom Bohman, has done a commendable job of elevating the department to its current status as a vibrant environment for research (at all levels, and especially aiding undergraduate mentoring), highly effective and rigorous mathematics education and fruitful alumni engagement. Mathematical Sciences faculty and students have won national and international prizes and recognition during his impressive 10-year tenure. Tom, thank you!
This past year we also saw the retirement of CMU's legendary professor Steve Shreve, who contributed to the growth of the university in fundamental ways. His visionary role in creating and launching the interdisciplinary masters program in computational finance (MSCF) has helped the department, the college and CMU immensely. Thank you, Steve, for your tremendous vision and hard work! We are confident the program will continue to be well-served by Shreve's successor, Martin Larsson, an internationally visible expert in the mathematics of finance.
Members of the Department of Mathematical Sciences are thankful to the excellent staff and IT support that the department and MCS employ. I am particularly grateful for the invaluable help I receive daily from Jeff Moreci and Colleen Storm, who are my two arms in navigating day-to-day operations and logistics.
Despite the accolades of the constituent members of the department, there are challenges we have yet to overcome. The demand for the CMU mathematical sciences major has never been greater. To meet this demand and sustain delivering high-quality instruction, we continue to depend on our top-notch teaching faculty who are relentless in offering the most effective training in foundational mathematics courses. This group needs reinforcement and additional recognition as soon as possible.
While the department has many strong aspects, we have distance to cover regarding diversity and related measures. The fact that the college and the university leadership is committed to matters of Diversity, Equity, and Inclusion is encouraging and instills hope. The latest recruitment of Associate Professor of Mathematical Sciences and Associate Dean for DEI Michael Young, as well as that of the Gregg Zeitlin Early Career Professor Robin Neumayer, an expert in calculus of variations and geometric analysis, are concrete steps in the right direction. We hope to establish diversity, equity and inclusion efforts as a foundational component of the department's DNA.
We continue the trend of stellar hires with the partial appointment in Mathematical Sciences of our Philosophy colleague, Jeremy Avigad, who will regularly teach an exciting new course on Interactive Theorem Proving. This and other joint initiatives, such as a joint postdoc with the newly launched Charles Hoskinson Center, form the start of an exciting next chapter for the department. What we hope will be a robust and fruitful hiring season is already underway for several faculty and postdoctoral fellowship hires.
I hope you enjoy the articles on the above-mentioned as well as the others featuring our distinguished CMU alumna and highly decorated Lt. Col. Jody J. Daniels, Chief of U.S. Army Reserve and Commanding General, and our brilliant undergraduate and graduate students, covered in this issue of Convergence. We have attempted to provide a glimpse of the various efforts by the participating (and former) members of the department, all working toward the common goal of striving for excellence in mathematical sciences. Continued alumni support and engagement in the department's endeavors is deeply appreciated. Endowed early-to-mid career professorships, named postdoctoral and graduate fellowships and undergraduate research awards will certainly help us in reaching newer heights.
There is plenty to look forward to in the coming year(s). SUAMI will celebrate its 30th anniversary during summer 2022, thanks to the efforts by many, but particularly the legendary CMU Professor Bill Hrusa. Together with SURF and SEMS, the department continues to provide exciting opportunities for undergraduates to engage in research from an early stage. We look forward to reporting more on these and other exciting news in the next edition of Convergence.
Prasad Tetali
Alexander M. Knaster Professor
Department Head