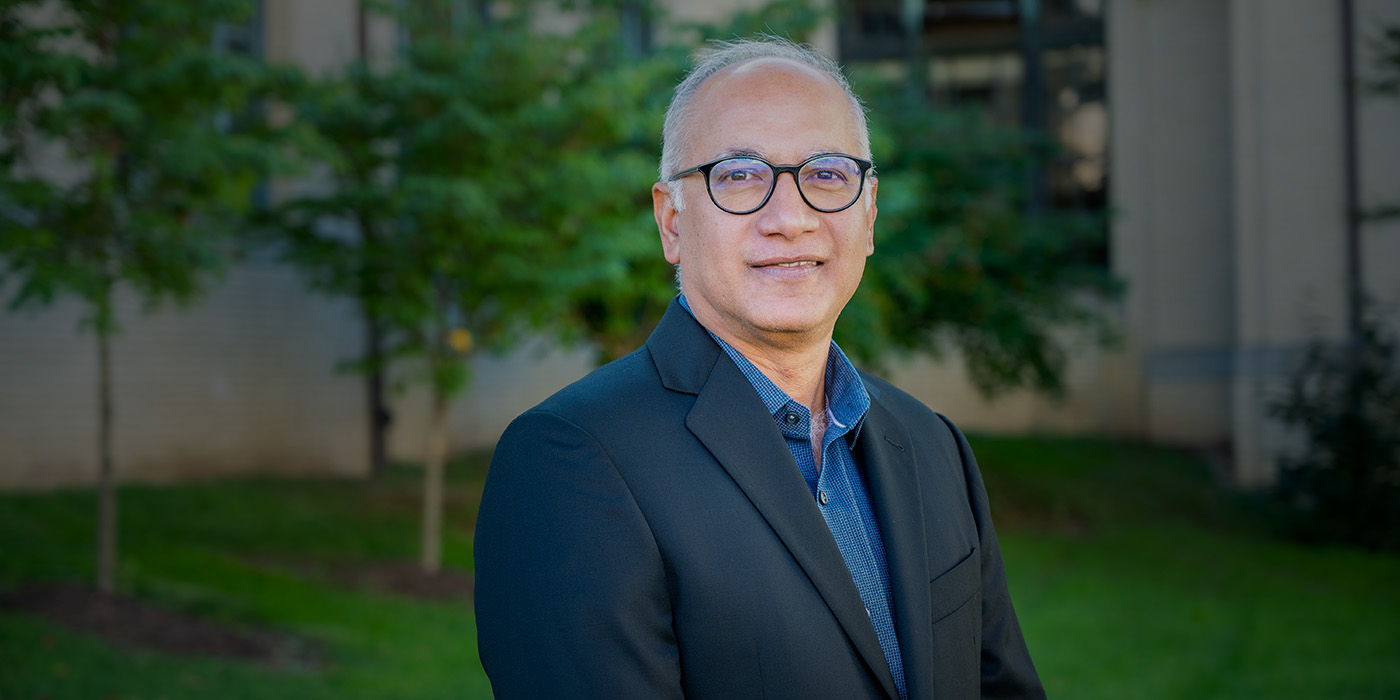 Prasad Tetali was named the new Alexander M. Knaster Professor and Head of the Department of Mathematical Sciences. Tetali has taken the reins from Professor Tom Bohman, who is returning to the faculty to focus on his research and teaching after being department head for 10 years.
Tetali comes to Carnegie Mellon from Georgia Tech where he has been a member of the School of Mathematics faculty since 1994 and held a joint appointment in the College of Computing since 2000. There, he was a Regents' Professor and director of the algorithms, combinatorics and optimization Ph.D. program. As an educator, he has advised many doctoral students, postdoctoral fellows and undergraduate students.
Tetali's research focuses on probability theory, discrete mathematics and approximation algorithms. He has published more than 100 research papers and given numerous invited lectures in his fields of expertise. Among his research honors, Tetali was named a fellow of both the American Mathematical Society and the Society for Industrial and Applied Mathematics.
Prior to joining Georgia Tech, Tetali earned his bachelor's degree from Andhra University in India, his master's degree in computer science and automation from the Indian Institute of Science and his doctoral degree from New York University's Courant Institute of Mathematical Sciences. He completed postdoctoral work at AT&T Bell Labs.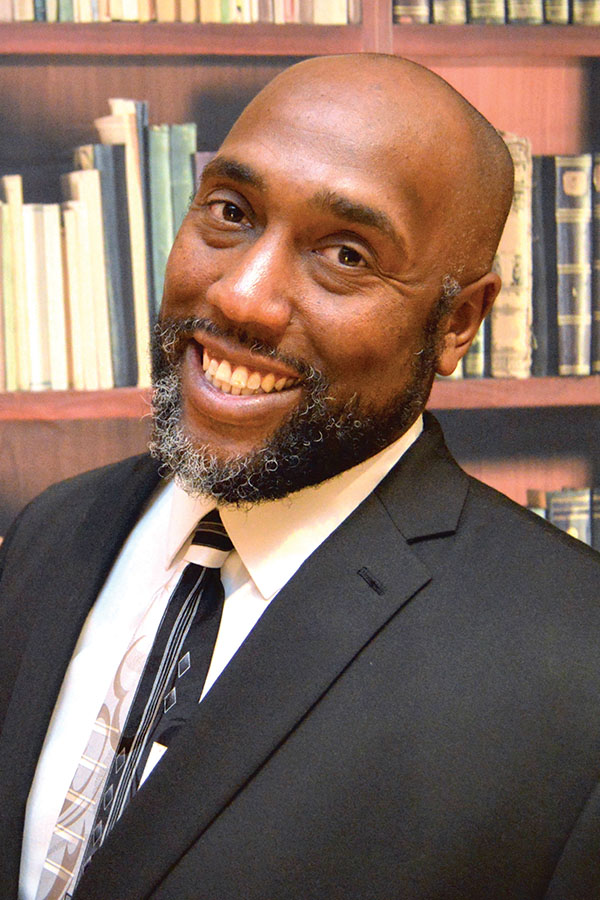 Michael Young
Michael Young joined the Mellon College of Science as the first associate dean for Diversity, Equity, and Inclusion (DEI) and as an associate professor of mathematical sciences. Young will further the college's and university's DEI mission by fostering a diverse and inclusive community that supports faculty, staff and students.
Throughout his career, Young has started several nationwide initiatives and held many leadership roles geared towards addressing race and inequity in education. He founded the networking organization the Center for Minorities in the Mathematical Sciences and the Mathematics Enrichment through Diversity and Learning (MEDAL) Organization. MEDAL provides diversity training and professional development to teachers and faculty as well as tutoring and mentoring services through the United Negro College Fund's STEM Scholar Program and through CMU's Tartan Scholars Program.
Young returned to CMU as a familiar face. He earned his Ph.D. in mathematical sciences in 2008 and has maintained a close relationship with the university in the years since as an instructor in CMU's Summer Undergraduate Applied Mathematics Institute and Summer Academy for Math and Sciences. His research is in discrete mathematics, specifically graph theory, combinatorics and applications to combinatorial matrix theory. Prior to joining MCS in July, Young was an associate professor of mathematics at Iowa State University.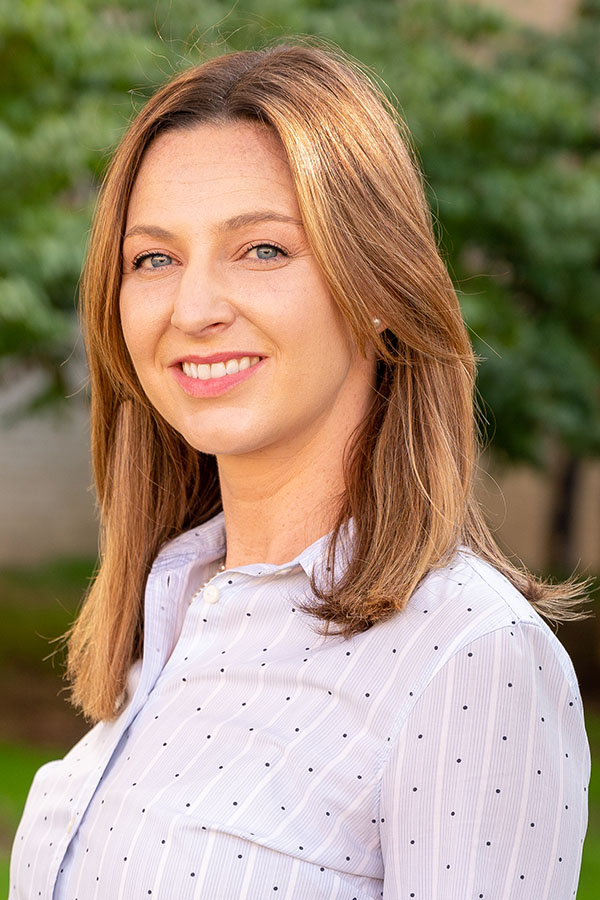 Robin Neumayer
Robin Neumayer came to Carnegie Mellon this fall as an assistant professor in the Department of Mathematical Sciences, following postdoctoral positions at Northwestern University and the Institute for Advanced Study.
Her research lies at the interface of the calculus of variations, partial differential equations and geometric analysis. She is particularly interested in shape optimization problems and functional inequalities and their relationship to the geometry of Riemannian manifolds.
Neumayer earned her bachelor's degree from the University of South Carolina in 2012, graduating with a major in mathematics and a minor in business. She obtained her Ph.D. from the University of Texas at Austin in 2017.
Outside of work, she enjoys running, reading novels and seeing live music. 
jack schaeffer
Professor Jack Schaeffer has been an invaluable member of the Department of Mathematical Sciences faculty for the last 38 years. From teaching large service courses to Ph.D. advising, to co-winning the Ryan Award, his dedication to Carnegie Mellon students and the university is unabating.
"It was an unusual department," Schaeffer recalls about the Department of Mathematical Sciences. At the time, there were not many academic departments that had as many applied researchers as CMU did. This is one of the biggest reasons that he was drawn to join the faculty.
Known to be a practical person, he has always appreciated the physical applications of mathematics. He was even told once that he "gives research talks like a physicist" due to his inclination toward the physical as opposed to the abstract. But he's "not an experimentalist," he said. While he likes the physicality of other research areas, he is driven by the math behind them.
Since his retirement in Spring 2021, Schaeffer has picked up new hobbies and tended to existing ones. For example, he is teaching himself to play guitar — mostly '60s and '70s rock — as well as learning to compose music. He is also continuing his nearly 30-year practice of Tai Chi.
Practicing Tai Chi over the years helped Schaeffer shift his frame of mind from one that focuses on accomplishments to one that centers on finding enjoyment in life. It was also a helpful resource for stress relief when he was teaching large service courses, which can be logistically and mentally challenging.
Overall, Schaeffer remembers his experience at Carnegie Mellon fondly. Specifically, that he was well-respected by his colleagues, the university and that he was thoroughly fulfilled by teaching. Schaeffer joined the Carnegie Mellon math faculty in 1983 after receiving his Ph.D. in applied mathematics from Indiana University.
■ Colleen Storm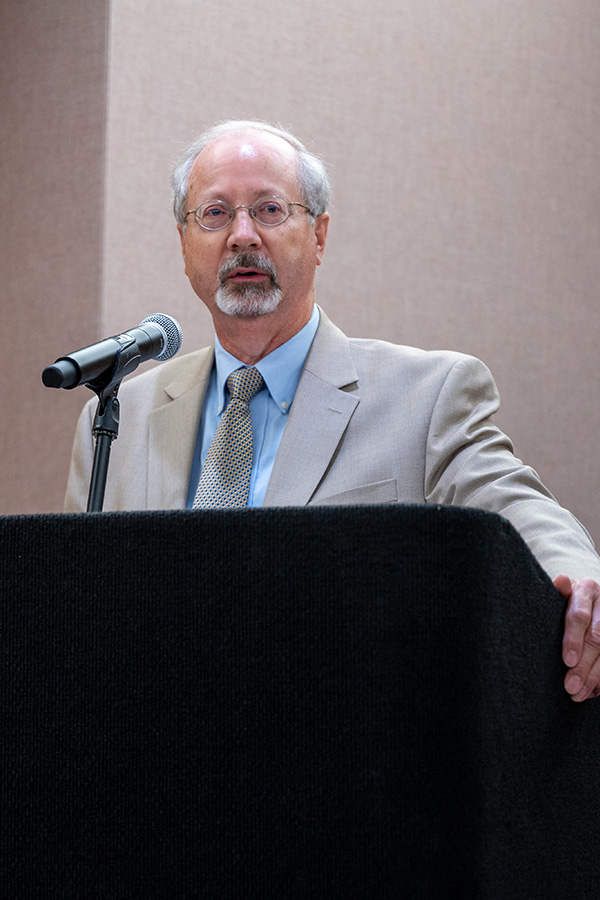 Steve Shreve speaking at his retirement celebration event on October 11, 2021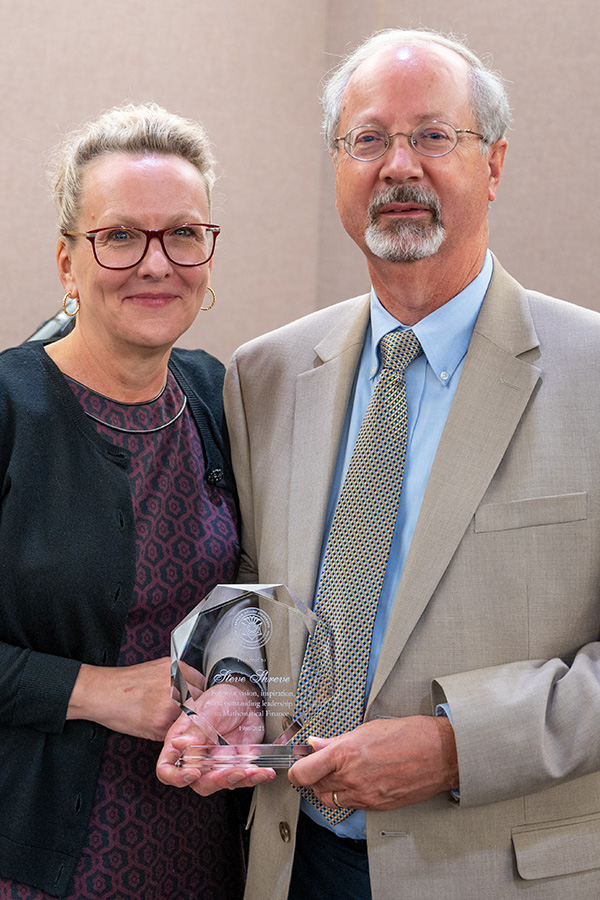 Glen de Vries Dean Rebecca W. Doerge with Steve Shreve at his retirement celebration event on October 11, 2021
Steven Shreve
Over the course of his more than 40-year career at Carnegie Mellon University, Steven Shreve has made a profound impact as both an educator and researcher. He has earned many accolades for his research in computational finance and has received the highest distinction from many of his students – most influential teacher.
When asked to send messages to Shreve on the occasion of his retirement this year, many of his former students replied that they found Shreve's classes, especially stochastic calculus, to be among the most memorable, most useful and most difficult of their careers. They also recalled the care with which Shreve treated each of his students and their education, whether they were part of the Bachelor of Science in Computational Finance or Master of Science in Computational Finance (MSCF) programs, or a doctoral student studying mathematics applied to finance.
"I have to say that Steve is one of the rare few professors who is not only an excellent teacher but also an outstanding human being who genuinely cares about his students. As Einstein said, if you can't explain it simply, you don't understand it well enough. Steve's ability to explain complicated problems simply and clearly is truly unmatched. I have never thought I could have so much fun in stochastic calculus classes. Steve did not simply teach subject materials so we could memorize and pass tests, he provoked us to truly comprehend the material so we could sensibly apply the knowledge to real world problems," wrote Alex Huang, who graduated from the MSCF program in 1997.
Shreve came to Carnegie Mellon in 1980 as an assistant professor of mathematical sciences and became a full professor in 1989. He was appointed the Orion Hoch Professor of Mathematical Sciences in 2006 and a University Professor in 2013. Shreve's bachelor's degree in German was earned from West Virginia University and his master's in electrical engineering and doctorate in mathematics from the University of Illinois.
A leader in the field of quantitative finance, Shreve's work established new methods for pricing exotic derivative securities, including knock-out options, a type of derivative security whose payoff can see a large jump as a result of a small change in the underlying asset price. Shreve has contributed to the basic understanding of convertible bond prices and dealt with mathematical models of markets in which financial risk cannot be hedged using available securities. While at Carnegie Mellon, Shreve joined John Lehoczky, Thomas Lord University Professor of Statistics, to apply his work in process engineering to financial problems. Together, they built on the work of Nobel Laureate Robert Merton to show how to form optimal portfolios of stocks in an unstable, unpredictable climate.
Shreve brought his impressive research pedigree to the classroom. He co-founded the MSCF program, which has grown into one of the world's leading quantitative finance programs in the country, founded the bachelor's program in computational finance and mentored many Ph.D. students. His books, including the famous Stochastic Calculus for Finance II, are used in quantitative finance programs worldwide. As a result, Shreve has greatly influenced the current generation of quants working in both industry and academia. And despite his official retirement, Shreve is again in the classroom teaching in the MSCF program in 2022.
■ Jocelyn Duffy