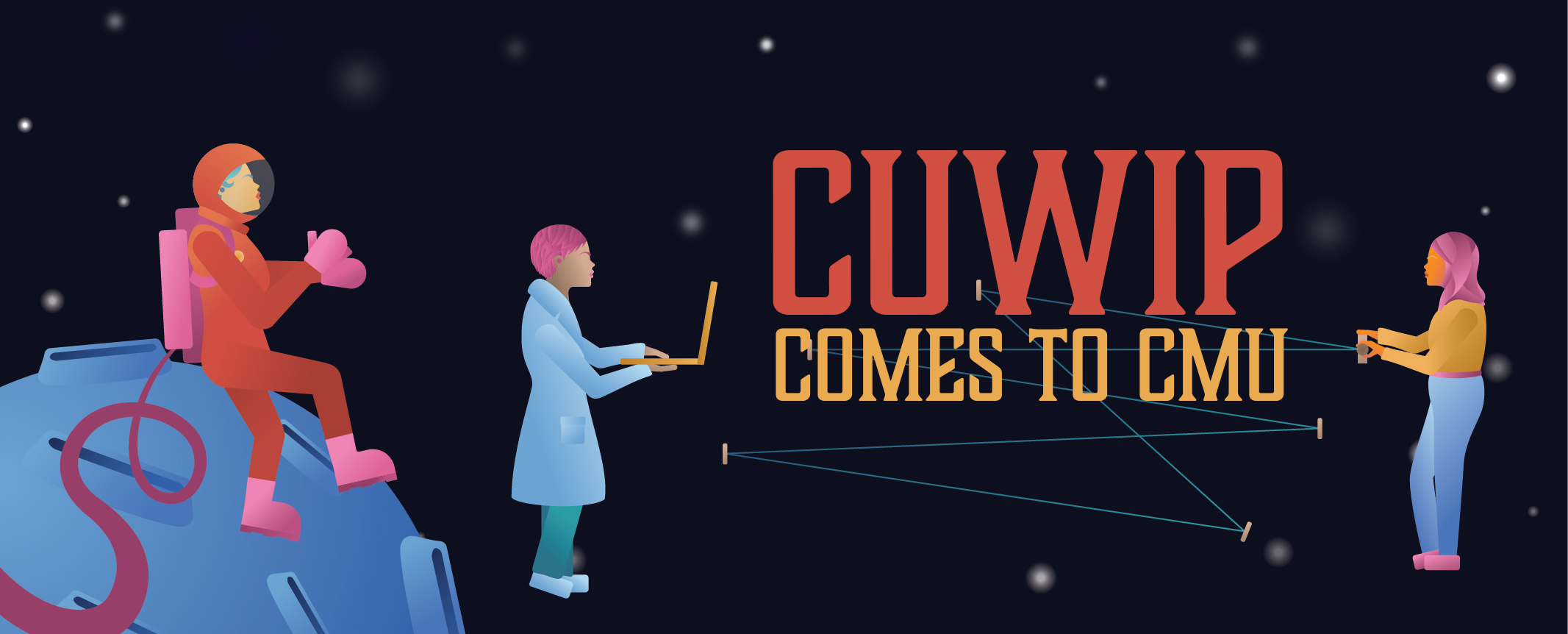 In January, Carnegie Mellon University hosted 173 young physicists for a regional American Physical Society (APS) Conference for Undergraduate Women in Physics (CUWiP). The conference is held at a dozen institutions across the United States each year, making it one of the largest conferences of its kind in the country. It brings together women in physics from all ages, professions and backgrounds to share their experiences, advice and ideas.
CMU students had invaluable experiences at other CUWiP sites in 2017, 2018 and 2019, which inspired the Department of Physics to bring the conference closer to home.
"Science thrives when it is inclusive. For generations, physics has been male-dominated. This must change," said Physics Department Head Scott Dodelson. "Hosting CUWiP was one of the most important steps that MCS is taking to drive that change."
A Packed Weekend
The three-day event featured a packed schedule of workshops, lab tours, plenary talks, a negotiation seminar, a career panel, poster and networking sessions and a video conference keynote.
"The activities, from tours to guest speakers and breakout sessions to bonding events, made this a phenomenal professional and social experience," said University of Michigan student and first-time CUWiP attendee Katherine Hoekstra.
Becca Rapp, a third-year graduate student in the Department of Physics, was the driving force behind much of the conference's coordination. Her major motivation, she said, was to do things that she hadn't seen at CUWiPs before.
"We wanted to show that you don't just have to go to graduate school and get a Ph.D. in physics," said Rapp, who has attended numerous CUWiPs as an undergraduate and graduate student. Instead, they invited speakers from academia and industry and people who have taken physics into non-traditional career paths such as data science or finance.
The career panel featured CMU alumna Aria Soha, an engineering physicist at Fermilab, and a host of other women working in data science, patent work, writing and teaching. The workshop Careers Beyond Academia pulled in plenary speakers Renee Horton from NASA and CMU alumna Njema Frazier from the Department of Energy.
A major highlight of the conference was the negotiation seminar led by Ayana Ledford, director of diversity and inclusion for CMU's Dietrich College of Humanities and Social Sciences and Heinz College of Information Systems and Public Policy. "This was not something we'd seen at CUWiP before. Most CUWiPs highlight the importance of being a good negotiator, but no one ever talked about how to build that skill set," said Rapp.
Ledford gave concrete steps for how to negotiate a salary and had attendees practice them. In particular, she had students think about their bargaining power: what sets them apart from other candidates and what will be a benefit to whomever is on the other side of the negotiation.
"Remember when you enter your negotiation…hearing 'no' is a great thing because you will say 'What needs to happen for me to hear 'yes'?'" Ledford told attendees. "So, you're not only finding out where the boundaries are and how far you can push, but you can discover what you need to learn."
The conference also provides a welcoming, low-stakes environment for students to present at a conference. Throughout the weekend, undergraduates gave talks and presented posters and received feedback from faculty and graduate students that they can take with them for future opportunities.
"This was an excellent introduction to how to answer questions from professors and other students about your own research," said CMU physics student Aria Salyapongse. Salyapongse felt more prepared and confident when she presented at the Biophysical Society meeting in San Diego a few weeks later. "The people asking me questions there were much less courteous. CUWiP was a good introduction and prep for a much more rigorous poster session," she added.
"Science thrives when it is inclusive."
Bringing it all together
Planning the conference was a large undertaking that brought together partnerships with CMU, Duquesne University, the University of Pittsburgh (Pitt) and Washington & Jefferson College (W&J). Rapp was the glue that kept everything together. She traveled to APS headquarters in Washington D.C. for a CUWiP convocation in June 2019, and from there, planning was full speed ahead until January 2020.
It was an all-hands-on deck effort, Rapp said. Over 67 people were involved in the planning, organization and running of the event, including undergraduates, graduate students, postdocs, staff and faculty. The leadership committee consisted of Rapp, Diane Turnshek, Diana Parno and Jyoti Katoch (CMU); Fatiha Benmokhtar (Duquesne); Rachel Bezanson, Chandralekha Singh and Arthur Kosowsky (Pitt); and Mike McCracken (W&J), all of whom helped recruit diverse speakers, lead fundraising efforts, coordinate budgets, and organize meals and lab tours.
After an intense six months of planning, their efforts paid off immensely. Attendees found the conference supportive and inspiring. In particular, they admired Rapp's presence throughout the conference.
"This was my first CUWiP, and it was very encouraging to be around so many supportive people, making it an invaluable experience. Becca did a wonderful job coordinating everything and ensuring that the conference had a welcoming environment," said Isabelle Khouri from the University of Michigan.
"She was very welcoming to everybody and made sure we all had opportunities to thrive at the conference," said Abigail Ambrose from the College of Wooster.
Reaching Far and Wide
CUWiP has been shown to not only get women into physics but to keep them there. "CUWiP has become a wonderful institution for building community for young women in physics and young non-binary people in physics," said Parno, who also moderated a panel on LGBT+ experiences in physics.
For some students, it might be the first time they encounter other female physics majors. And that experience can have an impact far beyond the conference.
"Giving students the ability to network and meet diverse physicists is the primary goal of the conference, and it's something I think we accomplished," said Rapp. Multiple students have reached out to her since about the connections they made with each other.
And the impact goes many ways.
"Part of being a leading physics department is the ability and drive to give back to the physics community, and we were delighted to be able to do just that," Parno said.
■ Emily Payne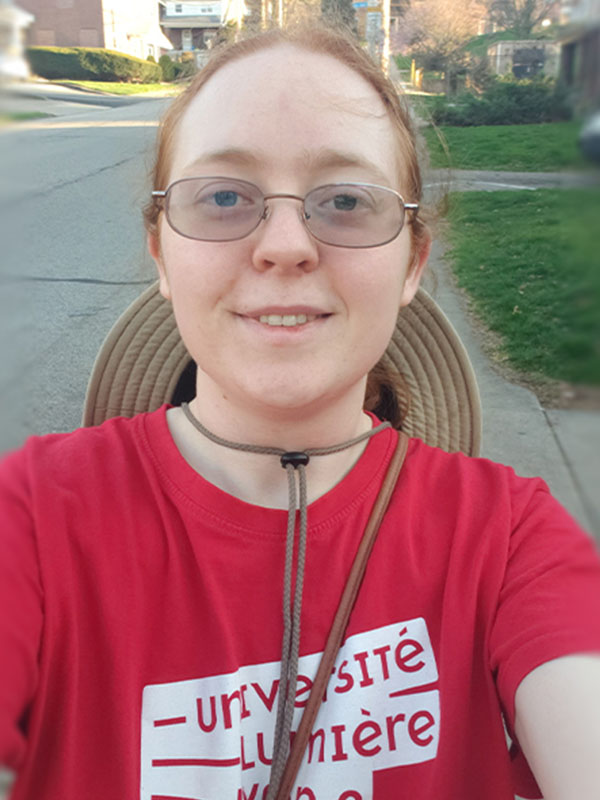 "It's easy to feel disconnected from our community right now, but there are numerous ways to support our community."
In the early months of the coronavirus pandemic, physics Ph.D. candidate Alison LaDuke set up a grocery shopping service to help others stay home.
She was inspired by the many ways people have stepped up to help in a time of crisis.
"I've heard of people sewing masks for at-risk populations, but I can't sew. I've heard of people who have recovered from COVID-19 donating plasma to help give people immunity, but I haven't been sick," said LaDuke.
She was looking for a way to help.
In talking to graduate students in her cohort over Zoom, she realized that many people in Pittsburgh, especially students, rely on buses for transportation to and from grocery stores, something that some students might no longer feel comfortable doing, noted LaDuke. And as social distancing guidelines and Pennsylvania Gov. Tom Wolf's order kept people staying home, demand for grocery shopping and delivery services exploded. Grocery services such as Instacart and grocery stores' in-house services struggled to keep up with the demand, causing many to wait up to a week or more to schedule grocery deliveries or venture to the store themselves.
"This is when I realized what I could do to help people stay home," said LaDuke.
Previously, LaDuke worked as a full-service shopper for Instacart. She sent a flyer to the Department of Physics offering to shop and deliver groceries for anyone who needed it for no fee.
"All I ask is that you use this service as an opportunity to improve your social distancing efforts and protect others," she wrote in the flyer.
In a time of uncertainty, it's important to look for the positive, to look for ways to help ourselves and others. And LaDuke wanted to do her part to pay it forward.
"Helping others helps me feel a little less lost," she said. "It's easy to feel disconnected from our community right now, but there are numerous ways to support our community."
Another main goal was to help as many people as possible stay home to help flatten the curve.
"Many essential workers, including those working at grocery stores, and especially health care workers, are putting their lives on the line every day to help. I'm not able to do that, but I can do my part to make their jobs safer," said LaDuke.
■ Emily Payne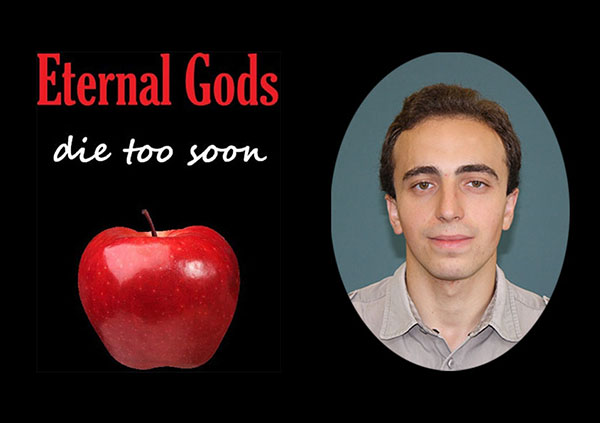 Graduate Student Pens Science Fiction Novel
Department of Physics Ph.D. candidate Beka Modrekiladze put his understanding of the physical sciences to use in a unique way: by writing a full-length science fiction novel. "Eternal Gods Die Too Soon" explores the role of artificial intelligence in society, quantum physics, time and the mysteries of the universe. Knowing that most people are staying home due to the COVID-19 pandemic and are in need of sources of entertainment, Modrekiladze made his book available for free with Kindle Unlimited.